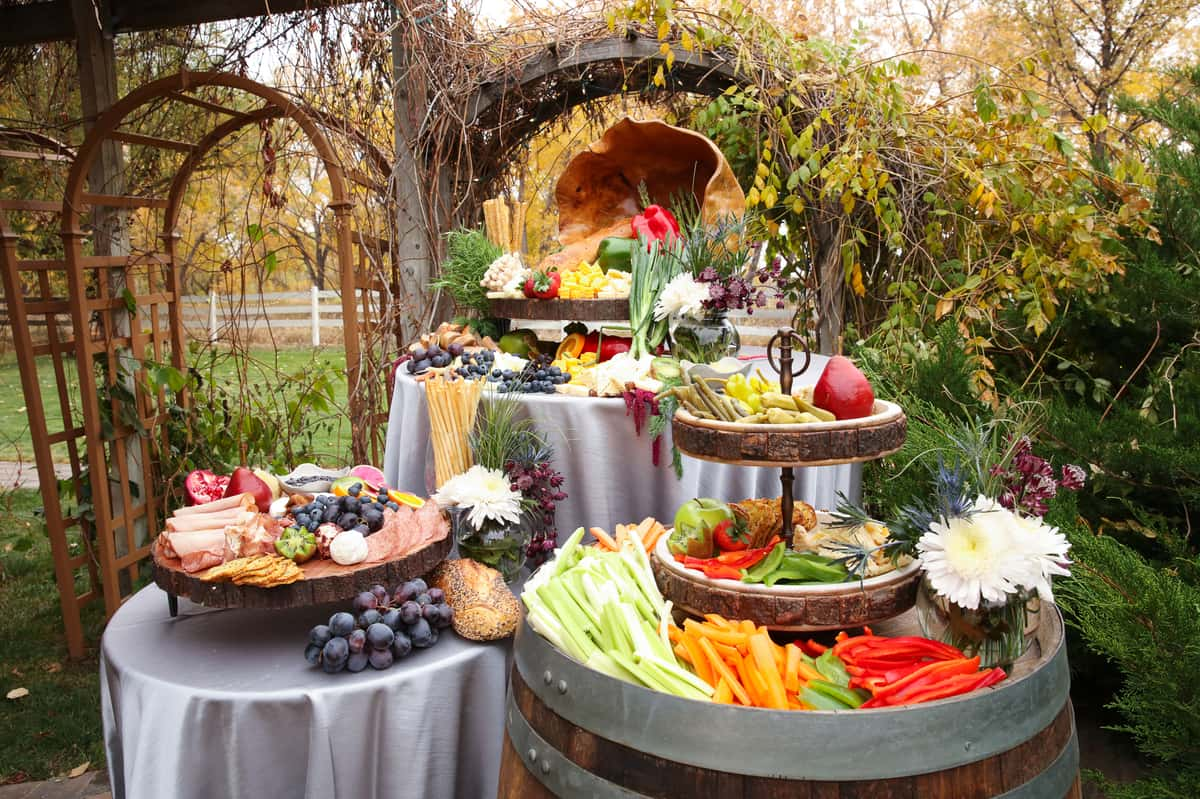 Holiday Menu
Become a VIP
Be the first to receive updates on exclusive events, secret menus, special offers/discounts, loyalty rewards & more!
Holiday Menu
Service Options
Full Service Event Coordination
Whether it be an intimate dinner at home or a coordinated event for 200, we can help you with menu planning, venue coordination, staffing, entertainment and decor.
Corporate Drop Off & Delivery
Feed the office or the whole building. We are experts at feeding a crowd. Even with their half-calf dairy-free vegan needs - we have got you covered. Let us help you this holiday season!
Cocktail Receptions
Certified bartenders and insurance coverage to pour it. We can tend your bar and handle all of the details so that you don't have to. Signature Cocktails can elevate your event and provide an option other than just beer and wine!
Feed a Crowd Ideas
Here are some ideas for large groups.
Dinner Buffet: Evergreen
Traditional flavors, yet not the same old thing...
Spinach & Bacon Salad
Artisan Rolls
Pepper Crusted Tenderloin with Au Jus
Cranberry Sage Chicken
French Green Beans
Chocolate Cake
Dinner Buffet: Aspen Nights
Grilled Baby Romaine
Warm French Bread Demis
Pecan Crusted Salmon with Mushroom Cream
Apple Cider Brined Pork Loin with Apples & Brandy
Au Gratin Potatoes
Roasted Brussels Sprouts with Bacon
Warm Apple Pie with Whipped Cream
Social / VIP Menu Suggestions
— Bar —
Booze provided by the client - we do the rest! 2 red wines, 2 white wines, assorted local & imported, beers, spiked seltzers, plus the Signature Cocktail: Cinnamon Maple Whiskey Sour

— Equipment —
Full-service catering set up including buffet linen, plates, cutlery, napkins, buffet decor

— Staff —
We cook it, bring it, set it up, serve the food, tend the bar, clean up including taking the trash out
Passed Appetizers
Butternut Squash Soup Sips
Smoked Salmon Bellini with Caviar
Buffalo Jalapeño Sausage Bites
Appetizer Buffet
Grazing Display
Chef-Carved Shoulder Tenderloin Sliders
Chicken Satay with Sage Gravy
Pork Belly with Whiskey Glaze
Granny Smith Apples Slices with Caramel Dip
Assorted Holiday Cookies, Barks & Bites
Appetizer Package Ideas
The Pub
Mini Beef Sliders
Mini Pulled Pork Sliders
Chicken Wings
Colorado Sausage & Cheese Board
Hot Artichoke Dip
Chalet Chique
Chef-Carved Shoulder Tenderloin Sliders
Smoked Salmon Display
Grazing Display
Wild Mushroom & Ricotta Crostini
Fireside
Bison Meatball with Red Wine Reduction
Smoked Colorado Trout Display
Tomato Jam Bruschetta
Grilled Chicken Satay with Sage Gravy
Artisan Chcolates & Salted Pretzels
Parade of Lights
Assorted Cookies
Brownie Bites
Holiday Sweets
Hot Coffee
Hot Chocolate
Decanted Sparkling Punch
Valid for the 2021 Holiday Season